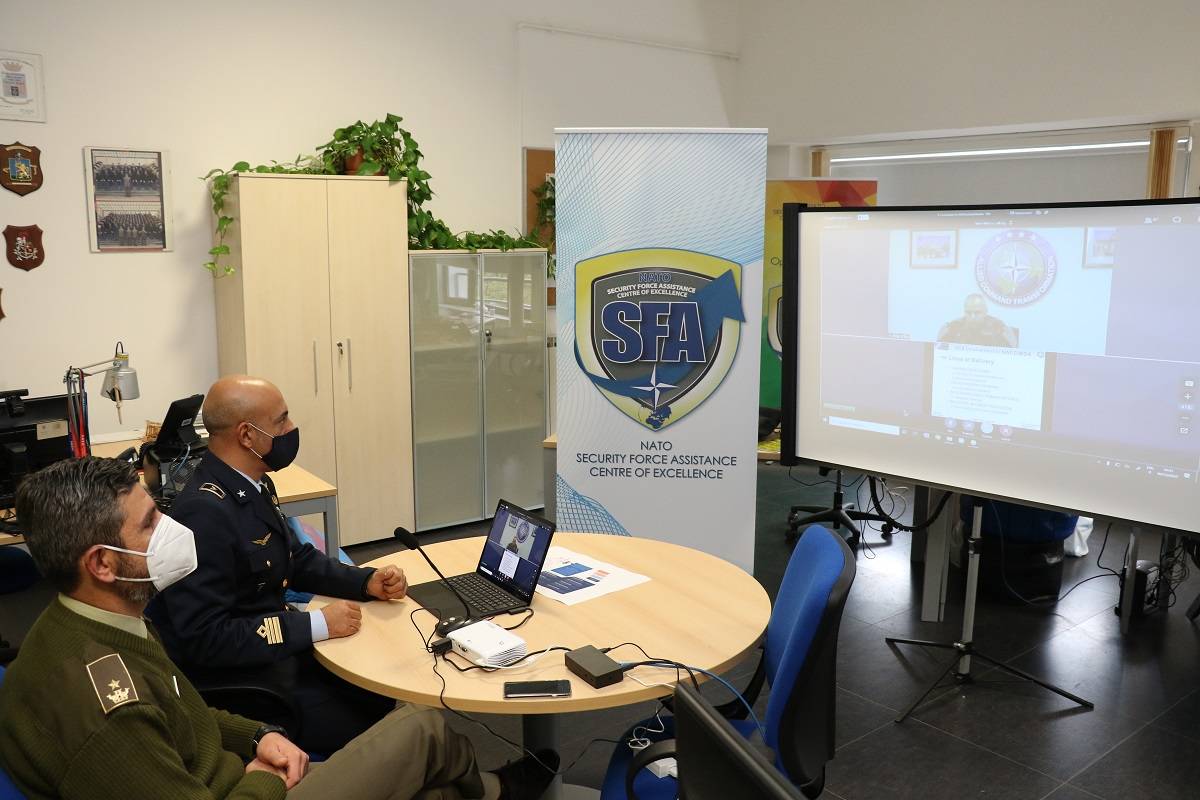 Subject Matters Experts (SMEs) from the NATO SFA COE Training and Education Branch joined the virtual 2020 EDUCATION AND INDIVIDUAL TRAINING (E&IT) EVENTS (& HUMAN · CAPITAL ENHANCEMENT), organized by HQ SACT-JFD in an online format. In particular, the SMEs participated in the NATO Individual Training and Education Conference (NITEC) on the 3rd and 4th of December and in the NATO ITEP Planning Board (IPB) on the 7th and 8th of December.
NITEC was structured around two different initiatives: "THE NATO STRATEGIC LEADERSHIP" and "THE NATO HUMAN CAPITAL ENHANCEMENT". The first has the purpose of leading the development of a Community of Interest (COl), where NATO organizations, National Professional Military Education (PME) Institutions and associated Universities can synergize their efforts and harmonize available resources for Allied, NATO Command and Force Structure leadership, building upon existing interoperability skills and current education programmes. The second initiative begins with the idea that the skill set that an individual brings to an organization can always be further developed or enhanced, and that there is not a pre-determined end state. Nevertheless, the aim is to ensure a structured process is in place, which creates the right environment for the people that make up both the NATO Command Structure and the NATO Force Structure.
IPB supports the NATO Global Programming with the aim of creating a consolidated update to the Individual Training and Education Programme (ITEP). The ITEP is the programme that aims to match NATO E&IT requirements and opportunities and provide E&IT solutions to fulfil NATO assigned missions in an effective, efficient and affordable way.
During the event, important news and tools were provided about the NATO electronic Individual Training and Education Programme (e-ITEP) Management System.
The vision for NATO E&IT is to deliver the right training, to the right people, in the right place, at the right time in an effective, efficient and affordable manner.
The participants included representatives from ETFs, COEs, PTECs, National Training Facilities or Academic bodies and also representatives from SHAPE, IMS, MPD, NSA.
The NATO SFA COE is fully involved in human capital enhancement and the Centre is working on new projects to fill new gaps identified in the specific SFA training landscape. The idea is to plan, organize and deliver further training solutions for personnel selected to be deployed as SFA operators (Advisors, Mentors Trainers) in the Security Sector Reform area in the context of capacity building activities.